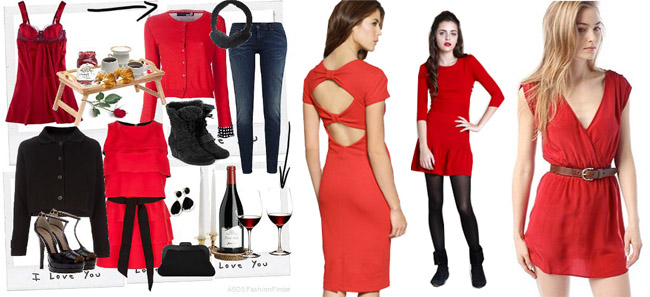 The hourglass body women can take advantages of these tips on Valentine day. Women with this silhouette will feel much identified with the stars of Mad Men and pin-ups of the 50s and also they become envied by their famous "wasp waist." Many women throughout in history have tried to get such slender body. But do not forget that even by the standards of beauty, this is the ideal body, all bodies are different and beautiful in terms of diversification and beauty standards may change, and have changed throughout history. Remember that this body type has the characteristics similar width between the shoulders and hips, but the waist is narrower.
In general, women with this body type have it easier to choose clothes that fit well, and what is sought is to prevent corpulence, accentuate the proportion of silhouette and emphasize the waist (although there are those who prefer to conceal) preventing the body seems very straight, like a box.
Blouses and tops that feel better are the V neck, halter, scoop or heart rate, long necklaces choker type or fall on the V-shaped neckline, but not too very long and large, and that would make the neckline look much wider. So we must also avoid the type boat neck or square, or showy details at the neckline (like bows or ruffles), and visually enhance the area and add unnecessary bulk. All this coupled with short- waist jackets arriving to the waist, belted coats or trench type, which helps keep the ratio of the silhouette, like belts around the narrowest part of the waist.
As for pants, avoid the low rise that makes the hips look wider and shorter legs, still better to choose medium / high waist to elongate the leg. Another option is camped pants (jeans flared already named in the past), although in this case it is best used as I said in the post body triangle, which expand on the bottom to harmonize with the hips, now are wide itself. I repeat not to be afraid, but in this case ideally take them with platform shoes or heels, especially if they have particularly long legs, as they tend to shorten silhouette. Finally, the dresses, fit this body type, are those who embrace the silhouette, even so-called "wrap" (literal translation "that surround you," to see if they understood better) and also those with voluminous skirts, fulfilling the same premises as for skirts. With this special Valentine Day tips you can do a lot to enhance your bodily figure to the extent that can surprise people around you and your boyfriend as well. Red is the best outfits on Valentine day that you can wear of your choice but never forget your body as what dress will make you look for whatever look.