You are going to fly with your infant or toddler but this is your first time and you have no experience of how to prepare for it?Your tickets are booked. Your hotel is paid for. So, do you have what it takes to parent on an airplane? Try these helpful hints if you're taking the little ones on a plane, turn the min to expert travelers in no time and enjoy your trip!
Prepare Two Packing Strategies
It is good news for you to know that there will be exceptional rules for baby food at airport security, in particular, you are allowed to bring formula, milk, snack through security gate even your package is out of 3.4-ounce limitation.
A small trick for you while packing your plane bag is to make them into 2 different parts: one part for flight and one part for security. I always say my love to gallon-size Ziploc for its wonderful benefits. You can put all the liquid and food of your baby into a Ziploc and place it on top.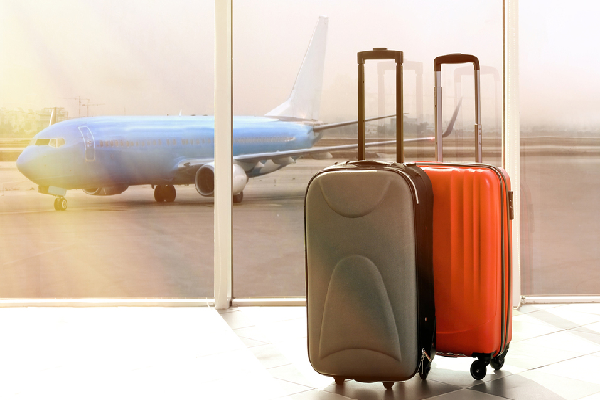 Photo's Source: Shutterstock.com
When you come to security, you will hand the Ziploc over to the screener because the securities will ask you to remove those things for separate scrutiny.  If you offer not to do x-ray with the food of your baby, they will inspect them normally by hand. After you finish checking security, just repack them. Great! You can apply this way for diapers also. Good luck!
Be Early and Board First
Sometimes, there will be some unexpected thing occurs when you get through airport security; especially you go with infant or toddler. It is better to show up early. In addition, when you check into flight early, you are probably to get a perfect boarding spot.
Remember to let airline staff know that you are traveling with a baby by presenting her birth certificate while check-in, and then you can receive many benefits. You can check any bags you need, after that just head to security.
At the security, you will be whisked into a separate line instead of waiting in the long line of passengers. However, you are only able to enjoy this if you are at the airport early; if you were at the peak time, it would be difficult for you to get everything through security at your own pace.
Diapering At the Airport
Wherever you take your baby out, you have to bring diaper bag that store diapers and wipes and going to the airport is not an exception. On a plane, there will be changing areas in the restrooms.
Before you board, let's grab your diaper bag and head to the bathroom in order to avoid any unexpected blowouts on the airplane. Always bear in mind that do not change cloth diapers in the main terminal because no one wants to smell or see your baby poop, that is a politeness.
You know the function of the tray on the airplane, right? So, never change your baby diapers on it. There are changing tables in the airport for you to do it, let's follow the rule.
Feed during taking off and landing
One way to relieve the pressure of airplane while take-off or landing on your baby's ears is letting them breastfeed or bottle feed. In case they don't want to eat, try to let them suck on a pacifier.
However, it is not very easy for you to feed your baby in the flight, especially during taking off and landing process. If your baby does not need to nurse, it would be better for you to play and check out the plane during waiting for take-off rather than nursing so as to prevent unexpected incidents.
Once the plane is up in the air, they cannot kick you off and the flight passengers cannot do anything if you nurse your baby because they are totally strapped into their own seats during take-off. So, don't worry about feeding your baby. Not until take-off do I nurse if possible, therefore, I have a great deal of milk while taking off and my baby is kept interested in nursing on the ascent.
Remember that holding a position for your infant or toddler during taking off and landing is so essential so that you can do the nursing in that position in case you are not used to it. You can do the same thing for nursing while landing off.
If your baby is bottle fed, I recommend a good idea that when you get a cup of pre-light coffee, you ask for a cup of hot water in order to warm your bottle with. Don't worry about being refused because most of the restaurants are willing to support you for this.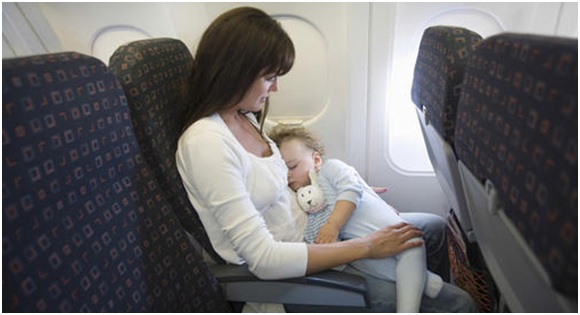 Photo's Source: babycenter.com
Consider the Season
It is number one significant to care about your baby's health. So, before every flight, you have to carefully consider the season. Make sure to taking your infant baby to the airport during a flu season.
In any special case that you must take them on a plane, don't forget to bring sanitizer wipes with you to clean your hand as well as the area around your seat to avoid you baby from flu bacteria. You know, you cannot control your baby not to touch on something all the time and finally, it will stop at her mouth.
Don't Forget the Medicine
In order to have a safe flight with your baby, you have to prepare and carry with a first-aid kit so as to deal with minor medical problems while traveling with your baby. The prescription medications are also very important in case your baby needs them on occasion.


Photo's Source: Shutterstock.com
Packing List For Flying With An Infant or Toddler

Before flying with your baby, always list out the things you have to bring along and check them carefully. Some of the most necessary you need to bear in mind are:
Diapers: you should bring 1 more pack of diapers for the needs when you arrive for the trip.Hybrid cloth diapers with disposable insert is a good choice for traveling.
Wipes: it is better if you prepare more wipes for special cases or once you get to the destination.
Changing pad: prepare 1 extra big changing pad instead of a small size, which fit your diaper bag.
Nursing cover: you don't want everyone on the flight watch your nursing show, right? So, remember to bring a large scarf and wear it while nursing your baby.
Food: you can prepare something for your baby's breakfast, for instance, juice, breast milk or formula.
Toys: they are useful to keep your baby enjoy the fight, however, never bring anything that makes sound or noise; they will make other passengers angry.
Change of clothes: you cannot how many times your baby throw up or spit up or poop on your clothes, so always remember to bring at least one for baby and one for you.
Pacifier: you want your baby to keep silent. Pacifier can help you but you should bring at least one more piece for the unexpected case it falls on the floor.
Sanitizing wipes:Of course, it is important to protect you and your baby from bacteria around.
Plastic bag: you will need it to contain the diaper disposal.
Conclusion
Well, how do you think about these 7 tips I have been shared? If you find them useful and interesting, please like and share this with your friends and others so that they can learn some experience for their baby later. If you have any comment about this article, feel free to leave your ideas here. I am very happy to receive no matter bad or good they are.

Author Bio: I'm Aliza Sartor, a mom of two children, founder of BabyInform.com.  I love reading, cooking and doing meditation. To become an intelligence mom is not easy, I rely on the support of other blogging moms like me to help along the way. You can read more of my writing at Babyinform.com