Whether you work as an IT professional or you need to sit in front of a laptop or mobile for a long time, you need to have spectacles. Blue Light Readers glasses are an ideal choice for every individual that traps the blue rays coming from the screen and protects your eyes from harmful effects.
Buying eyeglasses online may provide convenience, but many people face problems while purchasing their spectacles. They don't find a perfect frame that suits them, or they are not able to decide the type of lenses.
So here, we are going to let you know the 5 simple steps to buy the perfect eyeglasses online.
How To Buy Eyeglasses Online? 5 Quick Steps
1] Get Your Prescription Details
If you are planning to purchase your eyewear online, then you must keep your recent prescription with you as it may be needed by the websites. You might be thinking it is an obvious step to take, so why am I suggesting it. But it is often seen that some people forget their prescription while placing an order. The validity of the glasses measure is for one or two years and needs a frequent checkup.
So, if you don't have your recent prescription details, your order will not be acceptable. Consult your doctor and get your eye checkup before placing the order.
2] Fill Your Glasses Measurement Carefully
Another important step is to fill your eye pupillary distance (PD) carefully when it is asked. It is the most crucial measurement as this information is needed to make your lenses that will be centered according to your pupil's placement.
It is usually mentioned on your prescription through you can fill in the details, else upload a scanned copy or photo if the option is available. But sometimes it happens that PD is not listed on your slip, so quickly call your doctor and ask for the details.
3] Choose A Frame That Fits Your Face
After summiting all the details, you can check out the frame that can suit your personality. Choosing a frame can be tricky as many people don't know which style can enhance their appearance. It all depends on the shape of your face and to solve this problem we have suggested an idea you should keep in mind while purchasing your glasses.
Oval Face: It is the most ideal face that fits any glass frame available on the market. The oval-shaped people have curves and smooth-lined faces that make them perfect for any look. The oversized cup-shaped frame suits them most.
Triangular Shaped Face: These types of people have wider chins and narrow foreheads, and cat-eye rectangular shaped frames complement their look
Diamond Shape: Have a narrow chin and forehead and is considered one of the rear faces in the world. Rimless frames with rectangular lenses are the most suitable eyeglasses for the person.
Square Face: A square-shaped face has roughly equal width and length of the face and is recommended a thin rims rectangular-shaped frame.
Heart-Shaped Face: And finally, heart-shaped people who have a regular smooth line with a narrow chin. Though all the eyewear frames are suitable for them, the Clubmaster-inspired glasses or cat-eye frames complement their face the most.
If you want a perfect frame for your look, then recognize your face shape and choose the frame wisely.
4] Select The Appropriate Lenses
Once you have chosen your frame, you need to upload your prescriptions and other details so that the company can fit tour lenses on the frame. Before finalizing your lenses, check their features like they should be dustproof, water-resistant, have an anti-scratch coating, and most importantly, they should be blue light readers lenses or photochromic features that darken when you go out in sunlight. It all features protects your eye from every harmful element.
5] Place The Order Online
And finally, place your order when you have completed all the essential procedures. While placing the order, check offers and discounts offered by the site or the company. Fill in your bank account details carefully and check your message or email of the order confirmation sent by the company. You can also track your order frequently unless the eyeglasses reach your desired address.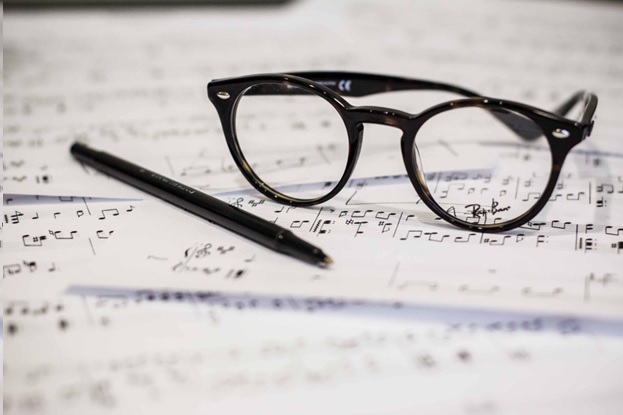 Top 3 Things To Keep In Mind While Purchasing Eyeglasses Online
Shopping from an online website has become very easy and convenient, but still, there are so many loopholes that people are facing from online portals. We have shared some quick tips to keep in mind while purchasing your eyeglasses online according to latest eyewear fashion.
1] Choose The Trusted and Authentic Site
Several online portals are available in the market that offers eyewear and claims themselves to provide the best product. But most sites have nothing to sell and sit to rob your money, or their services are not up to the mark.
Before purchasing your glasses, research the market and find an authentic site for your product. Check their rating available on the site, and don't forget to study the customer's reviews.
2] Price And Quality
After choosing the authentic sites, compare the prices and quality of the product of different websites. Choose the portal that is giving you the best offers available in the market. You can also check different offers And discounts that are given by various companies.
3] Review The Return Policy
Last but not least, review the return policy before purchasing your favorite eyeglasses. It never matters how good the product is; if the return service is not responsive, then don't buy any product from the site.
Bottom Line
Wearing spectacles for your whole life can be painful and especially for kids who have poor eyesight from their childhood. So, it becomes very difficult to purchase eyewear for the kids due to various factors. Apart from that, children have a gentle eye, and to protect them from sunlight and other harmful elements, you need to buy kids sunglasses which are available on various platforms.
To fulfill all the requirements that are demanded by your side, we have mentioned some of the steps to buy eyeglasses online. All the tips mentioned above help you find the perfect eyewear from a local and online store to complement your personality.