We must limit our cooking of chickpeas to hummus and chhole bature, correct? Chickpeas can be prepared in a variety of ways and are a vegetarian's means of consuming a lot of protein.
Here are four entertaining recipes of Chickpeas you can try in a fun way:
1) Chickpeas and avocado in a vegan Caesar salad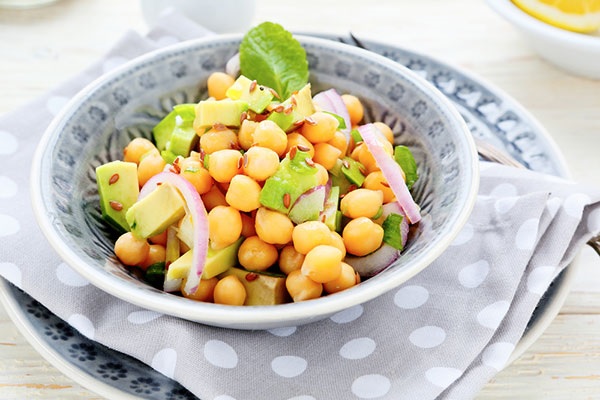 You require 1/4 tahini. two teaspoons of grated garlic, two tablespoons of yeast powder, two teaspoons of Dijon mustard, and one-fourth of a teaspoon of salt. You will need 1 cup rinsed chickpeas, 1 diced avocado, 2 hearts of romaine lettuce, a small amount of baby arugula, and black pepper to taste for the chickpea salad.
To blend the dressing, stir it with a fork in a small bowl. Add some water to make it a little bit thinner. To taste, add salt. After this, combine the dressing with your greens in a big bowl. Add the avocado and chickpeas, then season with black pepper.
Fun fact: Did you know that chickpeas have a high nutritional value because they are a good source of iron, phosphate, calcium, magnesium, zinc, and vitamin K, all of which help to keep your bones strong? So including chickpeas in your diet might be a great idea if you've been concerned about your bones for a while.
2) Fried chickpeas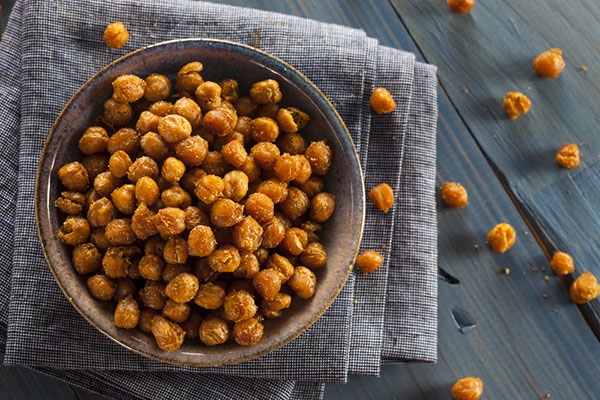 You'll need 2 cups cooked chickpeas, 1 12 teaspoons olive oil, 1/4 teaspoon each of salt, black pepper, chili powder, paprika, and garlic powder, as well as a little cayenne.
Prepare by turning on your oven to 400 degrees Fahrenheit. Make sure your chickpeas are dry before spreading them out on an oiled baking sheet. The seasonings should be whisked together. Toss the chickpeas after sprinkling this on top. When the 15 minutes are up, stir them and bake for about 30 minutes.
Fun fact: Choose chickpeas for a heart that is healthy. This is due to the fact that they have a healthy amount of fiber, which is known to help reduce the overall level of cholesterol in your blood.
3) Chickpea patties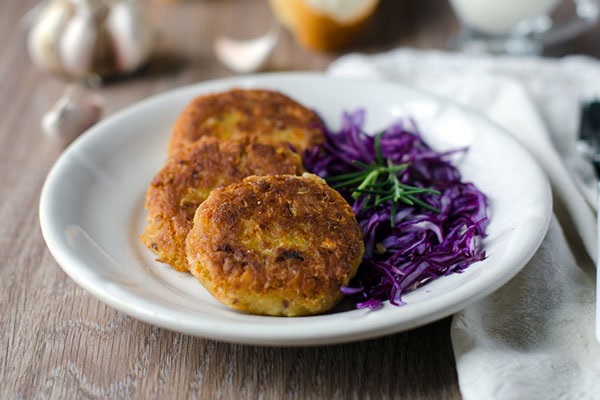 Two cups of rinsed and drained chickpeas, one and a half cups of Greek yoghurt, two tablespoons of curry powder, one egg, one cup of fresh breadcrumbs, three sliced green onions, one cup of chopped coriander, one tablespoon of oil, and one slice of cucumber are required.
In the food processor, pulse the chickpeas until they are roughly chopped. Add the breadcrumbs, egg, yoghurt, curry powder, and yoghurt. While processing it, make sure the mixture is still chunky. Place this in a bowl and garnish with coriander and green onions. Stir well after adding the salt and pepper. the mixture into flat patties. Put them on a baking sheet that has been greased, and then chill for 15 minutes. After that, heat oil in a non-stick frying pan. Place the patties on the pan after removing them from the refrigerator. about 5 minutes of cooking. Yogurt and cucumber slices should be served separately.
Fun fact: Because chickpeas are high in fiber, they aid in digestion, which keeps your system free of toxins and reduces bloating.
4) Sandwich with blue cheese and chickpeas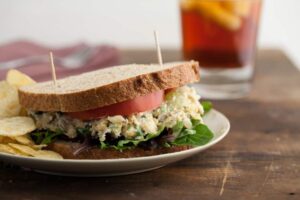 The following ingredients are required: 1 12 cups of chickpeas, 14 cup diced celery, 1 tablespoon minced fresh parsley, 3 tablespoons roasted sunflower seeds, 14 cup sliced green seedless grapes, 12 teaspoon pepper, 50 g of blue cheese, 3 tablespoons of mayo, 1 tablespoon apple cider vinegar, and salt to taste.
Chickpeas should be thoroughly drained and rinsed before cooking. Use a fork to mash them after placing them in a bowl. Pepper, grapes, sunflower seeds, celery, and parsley can all be added to the bowl. Mix it up by giving it a stir. Add some blue cheese crumbles to a bowl after this. Make sure the cheese and mayo are thoroughly combined before adding the mayo and vinegar. This should be added to the chickpea mixture and sandwiched between two slices of bread.
Fun fact: You might not know that most fruits and vegetables lack the mineral selenium, which chickpeas do. This mineral helps your body rid itself of cancer-causing substances and is responsible for the function of the liver enzymes.