Asian ethnic wear has always enjoyed sublime attention from fashion experts & lovers across the globe. And the Asian ethnic wear has always been considered greatly for its attraction, colourfulness and stylishness.
The diversity of India is well-known, from incredible culture, to glorious religions, and amazing festivals to stunning wearing apparels – India has plenty of things to influence everyone. With simplicity to grand celebrations, the grace of Indian ethnic wear is eternal.
Beauty lies in simplicity. Fashion experts and designers are well aware of this, therefore these gorgeous pieces of Indian ethnic wear have long been the centre of attraction for the designers all across the globe.
Indian outfits are known for their rich colours and spectacular patterns, along with elegance and beauty. Moreover, Indians especially women have a great love for pure silk, rich thread embroideries, gold embroideries, traditional handmade ornament detailing on the fabrics – all that makes their apparel breathtakingly beautiful.
Every woman looks gorgeous in traditional wear; in fact it boosts their charm and complements their personality. Different types of ethnic wear, in tempting styles can truly make a great difference by following the trends and styles.
Types of Ethnic Wear
When it comes to Asian ethnic wear there are various choices and types are available with everlasting varieties, including elegant saree, classic style salwar-suit, and numerous modern twists of it.
Salwar Suit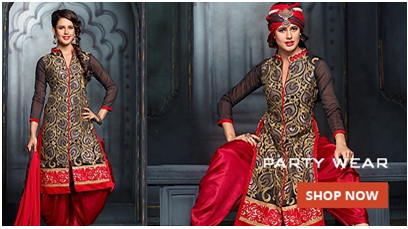 Salwar suit is the only Indian outfit that reflects the real beauty of a woman. It is the traditional wear and the favourite outfit among most women in India.
What is Salwar Suit?
The Salwar suit is a combination of three pieces-Salwar, Kameez and Dupatta. A salwar looks like a loose pyjama and it is tied securely at the waist and kameez worn above the salwar as it is upper part of the dress. A long scarf called a Dupatta which is used by according to choice.
Types of Indian Asian Ethnic Suits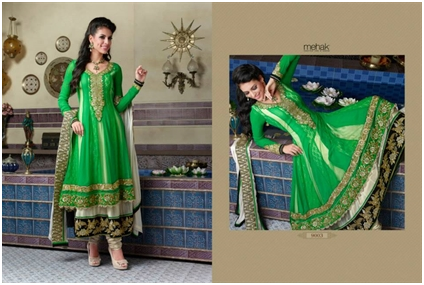 The attractive and elegant Anarkali designer suit is one of the very popular attires among young Indian and Asian women for functions, wedding and festivals.
The Anarkali suit is a combination of a long frock style kurta, and features large pleats that are beautifully flowing around the legs and churidaar (leggings) with dupatta.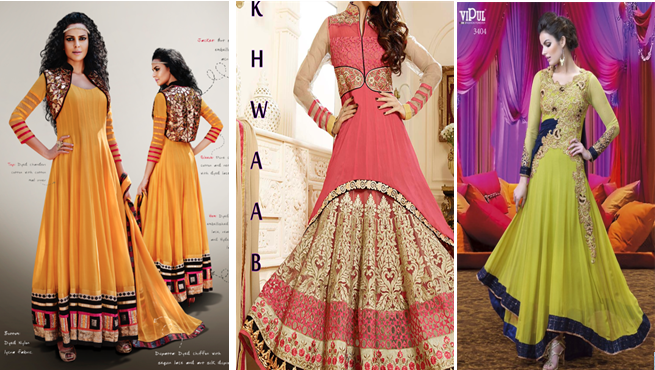 These Glorious and traditional Anarkali suits, you be stitched according to your figure and shape. And the best thing is that Anarkali suits work for most body types, with a few tweaks, of course.

Angrakha is a very attractive & stylish traditional Dress. Its front part consists of a V-neck wrap that can be tied at the side.
Manish Arora, an Indian Fashion designer added a stylish touch to the angrakha by creating angrakha style jackets. He showcased these designs as part of his collection for India at the Paris 2013 Fashion Week.
The Classy Full-Length Suit
Full-length suits look elegant with the straight cuts, perfect for tall girls. These are popular among the women of India & Pakistan.
The graceful Jacket style Suit looks very astonishing. Sherwani is a long jacket like shirt that is worn over a churidar legging
Popular in South Asia, it's a pair of loose pleated trousers with the combination of kameez & dupatta. If you want change then you can try Sharara pants.
Saree
Saree is one of the most popular apparels in all ethnic dresses that will never go out of style and always will be the very attractive one to make any lady look undoubted beautiful.
What is Saree?
A saree – also known as a sari, is a huge seamless, five to nine yards in length and two to four feet in width fabric traditionally worn by women in India. It is usually wrapped around the waist, with one end draped over the shoulder. Generally, ways of draping of sari are designed to accentuate women's curves, and often expose the midriff.
Types of Saree
Party wear designer sarees are made with the most luxurious fabrics including silks, nets, Satin, georgette and jacquard. These sarees come in the heavy decorated work and beautiful embroideries.
Most of the states in India have their own specialty of sarees, with a touch of their specific traditions and culture. And each piece is being designed with amazing uniqueness, making them exclusive in their very own way. Every woman prefers to have these traditional styles in her wardrobe.
Here are some of the best traditional sarees which are famous all around the world –
Bandhani,
Kanjivaram,
Banarasi,
Paithani,
Patola
Lehenga sarees have undoubtedly put the Indian style on fire, giving a fashionable and contemporary twist to the typical ethnic wear known as saree. The wonderful version of saree in the form of lehenga is far more stylish as well elegant, at the same time maintaining the traditional essence.
Cotton and Printed Sarees
Cotton sarees are very comfortable and stylish and also make a fashion statement. Women love to wear cotton printed sarees to combat burning summer heat. These sarees are available in incalculable designs and patterns including border works, stripes and prints. Cotton fabric keeps women cool and enhances their beauty at same time.
LehengaCholi
The most eye-catching one! It is the traditional outfits of women in Rajasthan Gujarat, Madhya Pradesh, Uttar Pradesh, Bihar, Haryana, Himachal Pradesh, Uttarakhand, Jammu & Hindi speaking Terai region of Nepal.
What is Lehenga Choli?
It is the combination of blouse, lehenga and Chunni. There is tight-fit blouse(top/choli), that generally match with the long flowing skirt (lehenga). A chunni (dupatta) comes along with it.
Types of Lehenga
Lehenga adds a charm to every woman. It comes in many designs with various fabrics like georgette, silk, velvet, chiffon, satin, net, and brocade with stunning decorative work that pleasing to the eyes e.g. gottapatti, sliver touch, embroidery, stones, sequins, lace, gold work, etc.
Here are some of the most popular Lehengas
Straight Cut Lehengas – One of the most favourite bridal lehengas in India, suitable for most body types.
A Line Lehengas – The shape of this lehenga represents the letter in the alphabet, A. Women with Pear shaped bodies can try for the perfect look.
Mermaid Lehengas – The lehenga fits tightly till the knees and it flares out charmingly.
Circular Lehenga – This lehnga starts with several pleats near the waist.
Cheerio! Stay fit, Look elegant, spread happiness, dress well, smile wide….

Author Bio – "Alena Collins is a fashion blogger, she loves writing about latest fashion trends. Apart from this she also creates fashion infographics and blogs too. You can check out her posts & Infographics here"