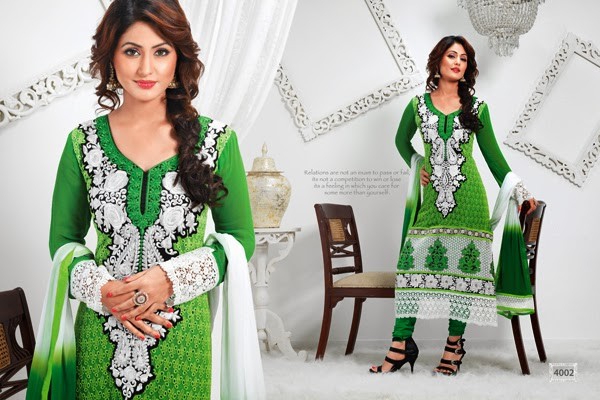 Asian women, particularly from India, love to adorn various kinds of traditional and ethnic wear. These costumes can be worn as casual wear as well as on special occasions and functions. Among the various ethnic costumes, churidaar kameez needs a special mention. This dress comprises of three parts – the kameez (garment for the upper part), churidaar (garment for the lower part) and a dupatta.
Small history of churidaar kameez
If you try to trace the origin of churidaar kameez, you will find that the costume actually belongs to Pakistan and some parts of North India. Pakistani Punjabis wore these costumes in general. Sometimes, instead of the churidaar, salwars are also worn with kameez. Salwars usually have a broad and wide top and narrows down towards the bottom. It is basically loose fitting. The churidaar is in complete contrast to the salwar as it has a fitting and narrow style all throughout. Churidaars are longer than the leg and have hooks or buttons at the ankle so that the churidaar remains in place. The additional length of the churidaar comes like folds and look as if stacks of bangles are placed on the ankle. It is from this concept that the dress is called churidaar – 'churi' means bangles.
Reasons for popularity of churidaar kameez
Some costumes gain instant popularity with women and churidaar kameez is one of them. Here are some of the reasons that contribute to its attractiveness:
Suitable for women with varying body types – Churidaar kameez is suitable for all kinds of figures in women. We have seen that salwars and patialas look good on women who are tall or have a good built. They do not look good on short, fat and petite women. But the smart fitting of the churidaar kameez provides a tall and lean appearance. The legs seem long, hence giving an illusion of enhanced height. Apart from this, wearing a churidaar kameez makes one look really elegant and sophisticated. So, this costume can be easily adorned by any woman – whatever be her body type.
Complements with all kinds of kameez – This is probably one of the main reasons which has made churidaars so very popular with Asian women. Churidaar can be worn with practically all kinds of kameez. They can be worn with flowing anarkalis, with short kurta, stylish kurti, knee length kameez and even with tunics. Women usually have several pairs of churidaars in different colors and materials and they can team up and mix and match churidaars with various kameez.
Helps in outlining the silhouette of a woman perfectly – The tight and smart fitting of the churidaar kameez helps in outlining the silhouette of a woman perfectly. The contours and curves of the woman's body are perfectly reflected through the costume and the imperfections get hidden. The total attire is graceful and therefore a favorite with the young and the old alike.
Comfortable dress for all seasons – Though many opine that churidaar kameez is not very comfortable as they are fitting at the ankle, but actually they are quite comfortable. The waist area and the upper leg area have extra cloth that makes bending and folding of the legs and sitting quite comfortable. The sleek appearance of the costume provides a smart look.
Churidaar kameez can be worn for office as well as on special occasions and during festival times. While the ones that are worn for office are simple and sober, the ones for occasions and events are gorgeous with lots of embellishments.
Author Bio – "Alena Collins is a fashion blogger, she loves writing about latest fashion trends. Apart from this she also creates fashion infographics and blogs too. You can check out her posts & Infographics here"