Poetry, often known as verse, is a literary style that employs phonaesthetics, sound symbolism, and metre, among other aesthetic and rhythmic aspects of language, to invoke deeper meanings beyond the obvious.
Three types of poetry are listed below.
Lyric, narrative, and dramatic poetry are the three basic types of poetry. It's not always easy to tell the difference between the two of them. For example, an epic poem may have lyrical sections, while a lyrical poem may have narrative sections.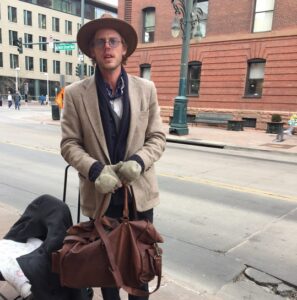 Top 10 Fashion Poets' Poetry
1) The Fashion Poet  | Carlo C Gomez Dec 2021
The New Romantics
~
Holding court at the Zanzibar,
they looked on good nights
like Egyptian Queens, like Ancient Babylonians.
On not so good nights,
they resembled Brassaï's Moma Bijou –
"fugitives from Baudelaire's bad dreams",
and even then they looked magnificent.
Identity wasn't something you nailed
yourself into in late adolescence.
It was a trick of the light,
and if you were to avoid
burning yourself out,
then you simply let the flames
lick over you
and turned the ashes into kohl.
2) Anais Vionet Dec 2021
mannequin
I envy the stylish model
her styrofoam perfect *******
those legs that never need shaving
the sweet smile that needs no rest
the hair that's always behaving
the pose that teasingly arrests
she's a icon of current fashion
a flower neatly pressed
but no love will ever find her
no one cares if she's undressed
she'll never accomplish anything
never mind – I'm not impressed
3) The Fashion Poet | Rosemary Porretta Jul 2021
F.A.S.H.I.O.N
Camera, lights, action…
Wake up, get up and don't forget to stay up.
Sway n walk but remember not to drop,
this is what we are going to call fashion.
Bring your hips left to right, stand up tall
and try not to fright. Bright lights up in it,
cause every gentleman loves to stare as the
senorita walks up the stairs in her high stilettos.
Smell of fresh fabric and the grip of leather tights,
take it and wear it because tonight you're the Queen
of the ball baby, coming out through the dark light.
We want fashion, poise and something to call Sensuous.
Do the cat walk
Strike a pose and tip to your toes,
cause tonight is fashion.
Competitive looks and reading books, you know you're in
it for the game to win it.
4) Man Feb 2021
Corduroy Secrets
there's secrets, hidden beneath the corduroy
a world of wonder
where admission varies
guest to guest,
it's a game of guess
at whether you're let in
or you're like the rest,
corduroy's the fashion though
for sure
they'll be others
that hold you high up
just to push you down under
5) The Fashion Poet  | Amanda Hawk Nov 2020
Saturday Wrap
Wrap myself up in Saturday
Tighten the day around me
Relaxation should be fashion
With a stage of people lounging
Letting the week fall away
Wouldn't that be luxury
A runway show
Of casual mornings, easygoing evenings
Affordability in the convenience
Drink down fancy coffee and hot chocolate
As Saturday becomes a world renowned designer
Of my relaxation
6) Amanda Hawk Apr 2021
Cold Sweat
The night clung to me
Like a cold sweat
Pressing my dress
Against my skin
Until the dampness of my panic
Ran with my mascara
I nestled my keys between my fingers
Makeshift Freddy Krueger
Lashing out at shadows
As they slinked around my feet
Fear sliding slowly along my face
And wiped it away quickly
So I could forget
I was alone
In the middle of the city
At night
Leering glares and catcalls
Loitered doorways
Tugging at my sleeves
Twisting their claws in my hair
Offering up glasses overflowing
In broken promises
And blatant lies
As I tried to rush by
Looking for a vacant streetlights
To hover, fluttering near with paper wings
So I could forget
I was woman alone
In the middle of the city
At night
7) The Fashion Poet  | Amanda Hawk Feb 2021
Ondine
I remember the water
How it felt
Upon my skin
And I am thirsty
To drink in each drop
These parched lips
Miss the rivers
Where I could swim
Freedom, ebbing and flowing
At one time, I was a part of the sea
And I covered everything
But these days, my skin cracking
Heart slowly thudding
To stop, my fingertips dust
And I am a whisper
Of the girl I once was
8) Amanda Hawk Jan 2021
Procellous
The rumbling in the chest
Grows slowly
Growling louder than the storm
Swirling outside the door
A procellous heart
It thunders, lightning flashes
Behind my eyes
The half finished conversations
Spills into an ocean of unanswered questions
And I am drowning
In the tempest of a broken heart
9) The Fashion Poet | Carlo C Gomez Apr 2021
There's an Army on the Dance Floor
Ziegfield girls with Gatling guns
in complete synchronization,
decked out in Erté.
Watch your step, soldier,
for what's often considered foreplay.
Much like Peter and the Wolf,
one thing leads to another
on this daisy chain,
and as you know,
Burke's only jealous of Lorainne.
I'll tell you what,
dress warm for the ******* snowstorm,
and there'll be a place alongside
such an ingenue.
But what a terrible let down
it would be to find out
she was always smarter than you.