Women everywhere, petite or not, are eager to learn how to make their legs appear longer than they are.  Whether you're a short lady or not, one of the biggest advantages of longer legs is that they make your body appear smaller.  One stone, two birds!
Here are five tips to make your legs longer with suitable jeans.
1) Jeans with a straight leg.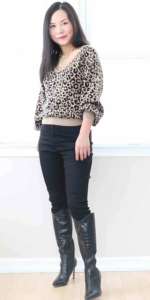 Straight leg jeans aren't just a wardrobe standard; they also have a number of figure flattering features, especially if you want your legs to appear longer. Straight leg is a silhouette you can always bank on regardless of your body type if you're looking for a pair of appealing denim jeans.
2) Skinny Jeans in a Dark Color.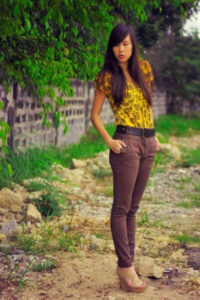 In general, thin jeans, especially those with a high waist, are an excellent way to make legs appear longer. To get the most out of this silhouette, most fashion experts recommend sticking with black or dark wash skinny jeans. The darker hues give the body a more streamlined appearance, which helps to add length and trim the legs in a stunning way. Just make sure the thin jeans you're wearing don't have a too-tight fit!
3) Jeans with a flared leg.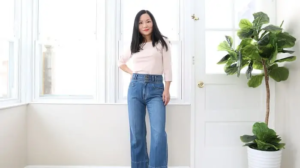 Flare leg jeans are not just a vintage trend, but they're also a wonderful way to lengthen your legs. Even if you're petite, a flare leg might help you lengthen your legs. Choosing a full-length flare leg jean can help you get that lengthy line down your torso. The most important thing to remember when wearing flare leg jeans, especially for small ladies, is to make sure the hemline is correct. They should not be too short or too long, as both can interfere with the leg lengthening effects. The bottoms of these jeans should 'graze' the ground.
4) Jeans with a full-length wide leg.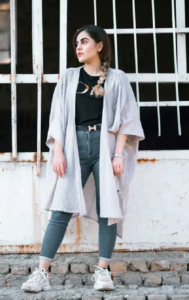 Wide leg jeans, believe it or not, can make your legs appear incredibly long if you know how to dress them! Many of us are hesitant to wear anything with broad legs since they appear to be overwhelming, especially for those with short legs to begin with.Wide leg jeans can be difficult to wear, but here's how to make them work for you: Wear them full length and with heels! This is quite important.
5) Jeans with a high rise.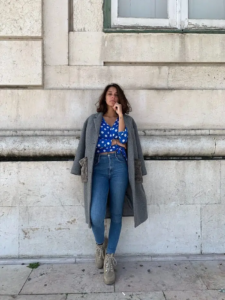 When it comes to making your legs appear longer, most fashion gurus agree that high rise jeans are a must-have in your collection. High-rise jeans, or any other sort of bottom, will quickly lengthen your legs.