Not only should the bride look stunning during her wedding, but the husband should also put up a good show. When it comes to personal hygiene, men are constantly pressed for time. They constantly have trouble with time.
You guys frequently neglect to concentrate on improving your physical appearance in your effort to complete every preparation flawlessly. But keep in mind that you must also be the centre of attention.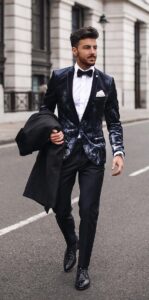 Here are some suggestions to help you look your best on your special day and save time.
1. ACTIVITIES FOR A FIT BODY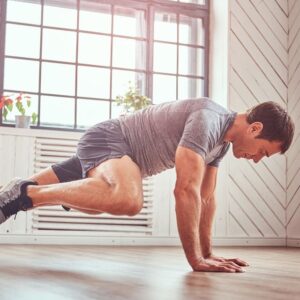 Imagine that on your wedding day, your sherwani is showing off your tummy fat. Eeewww! How embarrassing could things get? It's important to remember that grooming entails paying attention to every aspect of your body, not just your face. Daily exercise will not only make your body fitter but will also provide you energy and mental clarity.
Although it is not a typical day, your wedding is the most significant day of your life. Thus, you must begin your preparations right away in order to get the ideal physique that will fit your sherwani. Stay healthy and fit.
2. A ROUTINE FOR SKIN CARE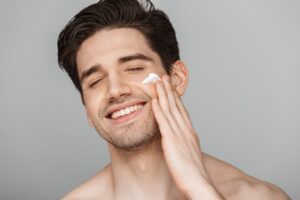 One of the most important things to do before your wedding is to follow the proper skincare regimen. Start treating your skin by investing in some quality skin care products. To reduce the likelihood of pimples, skin breakouts, dry skin, and dull skin, wash your face frequently. To get a uniform skin tone, regularly cleanse your skin and treat it to facials, D-tanning, etc.
You can choose natural components like honey, lemon, curd, etc., which will work even better for your skin, if you don't have time to spend hours visiting salons.
3. EXFOLIATION OF THE SKIN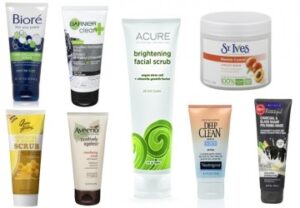 Because they spend the majority of their time outside, in the sun's harmful UV rays, and frequently in contact with dust and pollution, men tend to develop hard skin. Their skin becomes more sensitive as a result, and the absence of proper care makes their skin rough. It's crucial that you take care of your skin before your wedding day.
Dead skin cells on your face will be removed by exfoliating your skin. In addition to removing blackheads, whiteheads, and skin peeling, it will lock in all the moisture. Exfoliating your skin can nourish your dead skin and restore its youthfulness. Regular skin cleansing will also make your drab face look more vibrant. Additionally, it will take tan off of your face.
4. PEDICURIES AND MANICURIES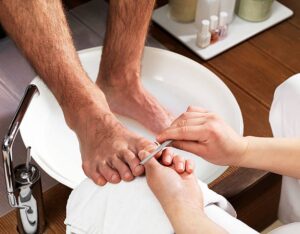 Taking care of your appearance is not enough; you must go above and above to compete with your bride. It's crucial to take care of your hands and feet as well. Have you ever considered how many of your friends and family members will show up to give you hugs and handshakes? What perception will they have of you after seeing your ragged cuticles and uneven, jagged nails? Can't allow that to occur. On your wedding day, every little detail will be carefully scrutinised. Ignoring it is simply not an option.
Getting a manicure and pedicure will give your hands and legs a great change from their lifeless appearance. Your hands and feet's dead skin will be scrubbed off as your feet are relaxed. helps them appear even and clean while safeguarding them against fungus infestation.
5. FACIAL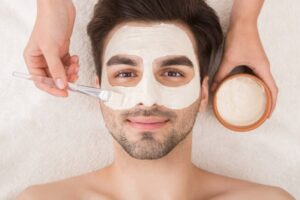 The big day is approaching, but you didn't consider getting a facial. Go for it now, and you'll notice the difference later. The facial is the phase that matters the most to you. All of the dead skin will be removed, giving you an immediate shine and an even skin tone. Your face and neck will be free of tan. Additionally, you should seal off your pores to lessen the likelihood of developing blackheads, pimples, etc.
6. CONDITIONALISE YOUR FACIAL HAIR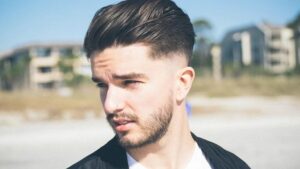 Keep in mind that your face is a reflection of your total personality. You can't let a single mistake caused by misplaced facial hair ruin your D-day. More than anything else, your uncoordinated nose hairs will attract notice. You might feel embarrassed in front of your wife as well as in front of your friends and family.
Therefore, it's crucial that you carefully clip your facial hair and repair your nose hairs to prevent them from sticking out and irritating you. To achieve the ideal Gentleman look, invest in the best trimmer and deal with your uneven facial hair.
7. PROFESSIONAL SHAVING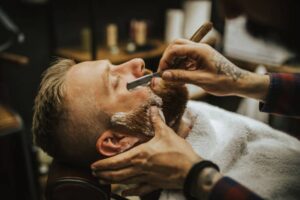 A skilled shave is the only thing that can give your face a sophisticated appearance. Get your beard styled at a salon. You'll undoubtedly notice a difference in yourself. A skilled shave not only evens out your beard but also more accurately defines your face in accordance with the shape of your face.
8. MANIPULATE YOUR HAIR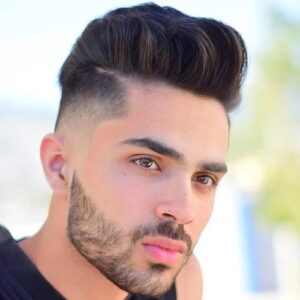 Get a new haircut for a more fashionable appearance. Nothing will improve your appearance more than a hip and fashionable haircut. Before a few weeks before your wedding, go to the best salon and try something fresh that goes with your wedding attire. Allow yourself time to evaluate and test your new appearance. Before your wedding, if you prefer the change, go for it.
Never try something new the week leading up to your wedding. If it doesn't match your dress perfectly, it can drastically ruin your entire look. Before attempting it, test it out. The best impression will be made of you on your wedding day.
9. DENTAL HYGIENE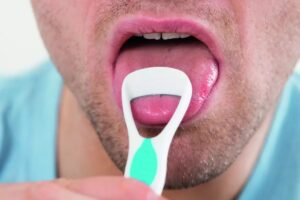 You have to put in a little additional effort for your special day if you want to get that pearly white grin. How many times you must smile on your wedding day is beyond your comprehension. As a result, it's important to practise good dental hygiene. Your smile will appear more vivid the whiter your teeth are.
Start caring for your teeth, see a dentist, and begin whitening your teeth. Choose a toothpaste that has been approved by a dentist because it will assist you in overcoming the issue of foul breath. To create that radiant smile in your wedding photos, keep an eye on your teeth on a regular basis.
10. MASSAGE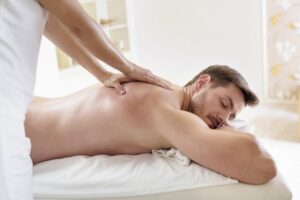 Wedding planning is difficult; in addition to the joy and excitement it gives, it also causes mental and physical stress. Go for a massage to unwind your body and mind. You will feel more refreshed, which will help you feel both calm and energized.
It's one of the most crucial preparations for your wedding. Your stress and tension will absolutely melt away. You can just make appointments for massages and spa treatments to help you feel refreshed. Your mind will also be soothed and calmed by it. Get it done as a favour to yourself.