Black is a striking colour that never fails to draw attention. Today's wedding parties are all about trying new things. So, on your big evening, you'll sparkle in one of these black wedding Dresses.
White wasn't always the norm in western civilization, too. White gowns didn't even become the norm until Queen Victoria wore one to her nuptials in 1840. Yet those are no longer days. Black is unquestionably your hue if you want to be on trend with your outfit.
Here are Top 6 Stunning Black Wedding Dresses that will make you pause, gaze, and buy.
1) Satin bandeau dress with jewels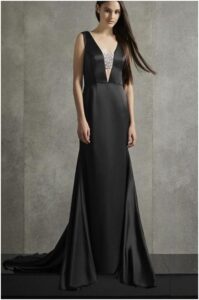 Satin in black is stunning. And the dress stands out even more when you add an embellished bandeau to hold that deep V neckline together. However, you can be confident that the quality is outstanding because it originates from renowned fashion designers.
2) Black wedding dress with Lace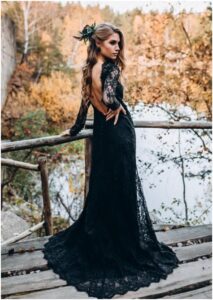 This bridal gown has a lot of lace, a low back, and a fluid flow. You can then purchase these from any online apparel retailer. Additionally, you can modify the garment to ensure that it fits you precisely.
3) Black wedding dress with tulle
A particularly striking impression is produced when nude lining fabric is combined with black tulle. Additionally, this stunning dress has bishop sleeves with flowery lace. And the back features an exposed keyhole. Just gorgeous!
4) Vintage black wedding dresses with fringe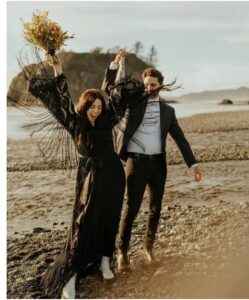 This is a shout-out to all the bohemian brides that love the 1970s so much! (See here for bohemian wedding inspiration.) Save this dress for later. Additionally, this black lace dress delivers on the fringe sleeve trend that we are all loving right now. To complete the appearance, take a pair of vintage rose-colored sunglasses.
5) Midi dress with  V-neck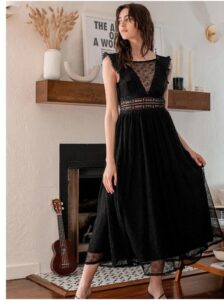 We adore the way the dress's deep-v top and waistline are detailed with lace. Dreamy and enjoyable!
6) Mermaid dress with wing sleeves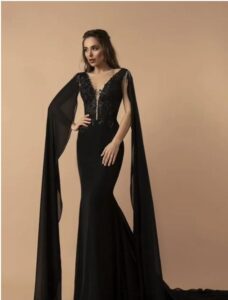 The drama that these sleeves and that train have is beyond our comprehension! Make this your personal method of proving that you have what it takes to be a brave bride.