Colors are constantly being recreated. It is normal to mix and match colours for various outfits. These days, ombre wedding dresses have a feature that is so novel that no bride can say no. The ombre wedding dress is the ideal option for ladies searching for unique wedding ideas. After that, brides might have fun with this appearance while maintaining the fundamental white wedding dress.
Let's talk about the hottest and most fashionable ombre wedding dresses:
1) Airbrushed Ombre Bridal Dress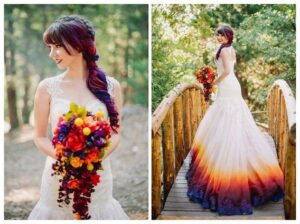 The colourful bridal style we've been waiting for is the air-brushed wedding gown. This is perfect if you're a bride who wishes to branch out from the traditional white gowns. Its rainbow hues will be a visual pleasure. For a carefree style, accessorise with a crimson or black lip and nicely twisted hair.
2) Silk Ombre Wedding Dress with Cold Shoulders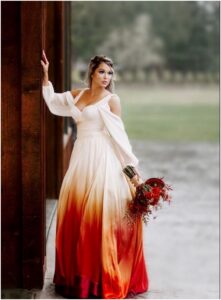 This wedding dress is a show stopper thanks to its gorgeous and flattering fit in silk chiffon. The skirt is a gorgeous, blazing ombre of burned orange, gold, and burgundy. Additionally, it has a silk Charmeuse hem that is buttery soft. This dress has chiffon sleeves that are billowy and have an elegant cutout that is strategically placed at the shoulder.
3) A-line Wedding Dress with Long Sleeves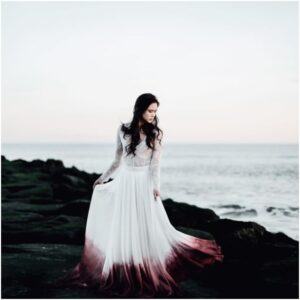 This is yet another seaside wedding gown. It is organised in an A-line. It is also composed of chiffon. Additionally, every bride will look beautiful in this Burgundy Bridal gown with a sheer long sleeve lace bodice.
4) Wedding dress in Black with Ombre Beading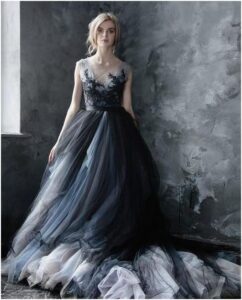 This dress is incredibly attractive and stylish thanks to the rhinestone adornment on the tulle. Then, it has a high neckline and a sweep train. This one is also for brides who enjoy trying new things. Additionally, wear it with lush locks up front and swept back.
5) A Dress with Red Glitter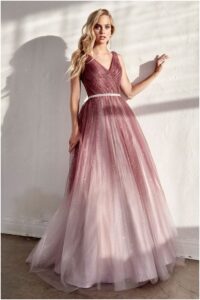 This one has a Glitter Tulle Finish and a Pleated Bodice. Additionally, use a belt with sequins or glitter to define the waist. It will then take the exact shape of an hourglass. This is quite attractive on the body. Choose this if you want to catch everyone off guard.
6) Silk Wedding Dress with Indigo Ombre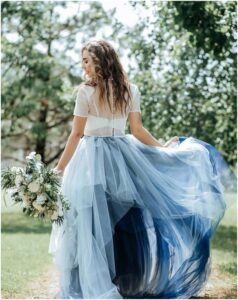 For weddings, this one includes a translucent sparkling blouse. Then, its thick, broad silk bustier excellently maintains bust shape, avoids lace top transparency, and fits women of all sizes. navy blue lining and tulle in shades of indigo, navy, and dusty blue. Thus, it is the perfect option for a boho outdoor wedding.
To make an impression on all of your guests, choose these outlandish ombre wedding dresses. Additionally, if you are secure in yourself and can handle issues effectively, do not worry about what others may say. Then, choose your favourites as usual!