The hourglass figure is almost every woman's fantasy and is often envisioned by her as the "ideal" body type. Women with this body type have around the same measurements at the bust and hip area with a particularly narrow waist, thereby lending the shape of an hourglass.
If you're one of the lucky ladies blessed with an hourglass bod, you've got some killer curves to flaunt that'll attract a fair bit of attention every now and then. However, you don't want to draw attention to the wrong places, so it's imperative that you dress right and opt for outfits that beautifully compliment your body type.
When dressing an hourglass figure, the rule of thumb to remember is to avoid bulky and boxy styles, opt for lighter fabrics, avoid too much detailing at the bust area (to avoid looking top heavy) and to opt for outfits that accentuate that beautifully narrow waist.
Keeping these things in mind, here are a couple of stylish pieces that would sit perfectly on your hourglass figure…
1) Bodycon dress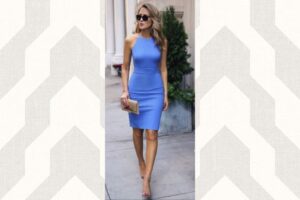 Bodycon dresses are the perfect way to accentuate your curves, especially for women with an hourglass body. These dresses complete stick to your body like second skin and hug your curves at both the bust and waist areas; giving you an elongated appearance. Furthermore, if you have a flat stomach, you're totally going to hit the jackpot with this outfit!
2) Wrap blouse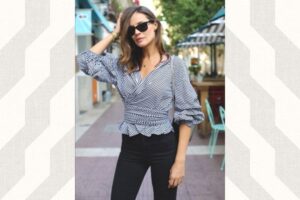 Wrap tops tend to draw attention to your waist without adding any extra volume to your bust area. These blouses work very well for hourglass figures because they pull the fabric in at the skinniest part of your waist making you appear voluptuous yet slim. Remember to avoid tops that have a lot of detailing such as ruffles, bows etc. at the neck and bust area as these may make you look top heavy.
3) Striped skater dress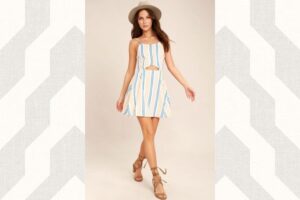 If you're not looking to attract too much attention to that sexy hourglass bod, then stripes are a great way to downplay your curves a bit. Skater dresses are tailor made for hourglass bodies and will lend an elegant touch to your look while also subtly complimenting those lovely curves. So obviously, when you pair the two, you get a match made in heaven!
4) Narrow and deep neck tops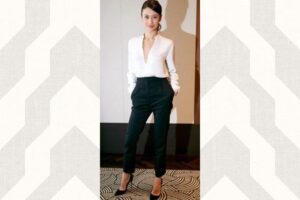 Women with an hourglass body should opt for tops with narrow and deep necklines such as V-necks, sweethearts and scoop necks to name a few. Narrow necklines prevent you from looking too busty, and low necklines draw focus to your narrow waist…and that's the right way to draw attention!
5) Pencil Skirt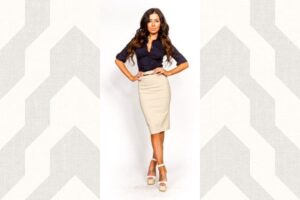 Pencil skirts are a popular choice among most body types, but for the hourglass body, they work miracles. Ladies, there's simply no better way to flaunt those vivacious curves, than in a perfect, figure hugging pencil skirt. The best part is, these skirts are so versatile and can be worn for almost every occasion. So whether it's a business meeting or a night out at the bar, in that pencil skirt, temperatures are bound to rise!
6) Flared Pants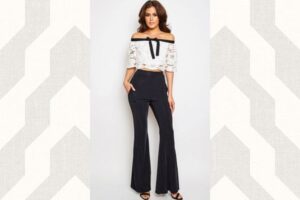 While choosing pants for the hourglass body type, always look for ones that hug your curvy hips as well as lengthen your legs. Flared pants work particularly well since the flare allows the bottom part of your leg to be proportionate to the width of your hips and creates a longer, slimmer appearance for your legs.
7) Waist Belt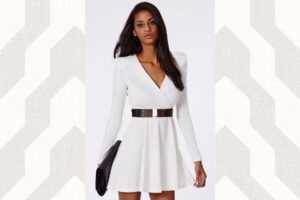 A waist belt is the perfect accessory to flatter your hourglass figure by drawing attention to your curves and detracting from other heavier areas. A belt worn around the narrowest part of your waist acts as the focal point and gets you those much-deserved envious eyeballs (which you secretly enjoy)!
8) Light Scarf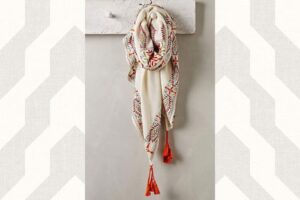 Hourglass figure or not, scarves are a great accessory to pair with your outfits…they lend just that extra bit of oomph to your look! However, all you hourglass shaped ladies should opt for a light fabric scarf to avoid too much volume on top.
So there you have it, 8 perfect dressing options for all you hourglass shaped divas out there. About time for a wardrobe makeover…don't you think?