Flowers are an essential part of any wedding venue. Weddings look stunning thanks to the beauty of flowers, which come in a variety of colours and shades. In other words, if you've always wanted a magical wedding, don't forget the floral arrangements. After all, you can use flowers in a variety of creative ways to decorate your home.
Do you want to learn how to do it? Continue reading for more information.
1) Pomanders made of flowers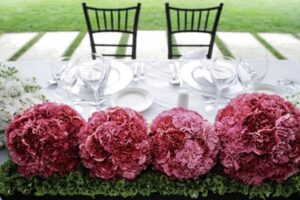 You're looking to spruce up your dining room? Cutlery should be surrounded by flower pomander balls. Colorful ones are sure to draw the attention of your guests. Whether you're dining at a round table or outside, these will look great.
2) Floral chandeliers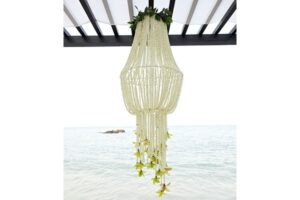 Floral chandeliers are an excellent way to add a unique flair to your wedding venue. These will be a stunning backdrop for beach weddings, in particular. If you're going for a more traditional look, go with mogra chandeliers or bright flowers.
3) Chairs with flower bouquets attached.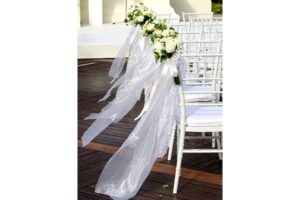 Attach flower bouquets to chairs to enhance the seating arrangement and make your wedding guests feel extra special. Not only will it enhance the aesthetics of your wedding, but it will also make for excellent candid shots.
4) Patterns of heart-shaped flowers
This is a great choice for the cheesy couple who is a romantic at heart. Flowers or grass can be used to create heart-shaped patterns in the aisle leading to the mandap (for a garden wedding). Please believe us when we say this will elevate your home's style to an entirely new level.
5) Cone-shaped petals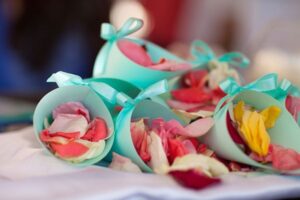 When the happy couple makes their grand entrance, guests traditionally throw flower petals on them. Keep flower petals in cones in trays just before the ritual to do it in style!
6) Mason jar floral wall hangings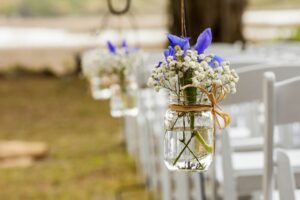 Hang mason jars filled with colourful flowers to give your venue a dreamy appearance. Make your big day even more special by incorporating these into the decor.