We chose to shed some light on Buddha Bowls because they have been trending on Pinterest for quite some time.
Here is the latest healthy craze in town: Buddha Bowls, to further illustrate it.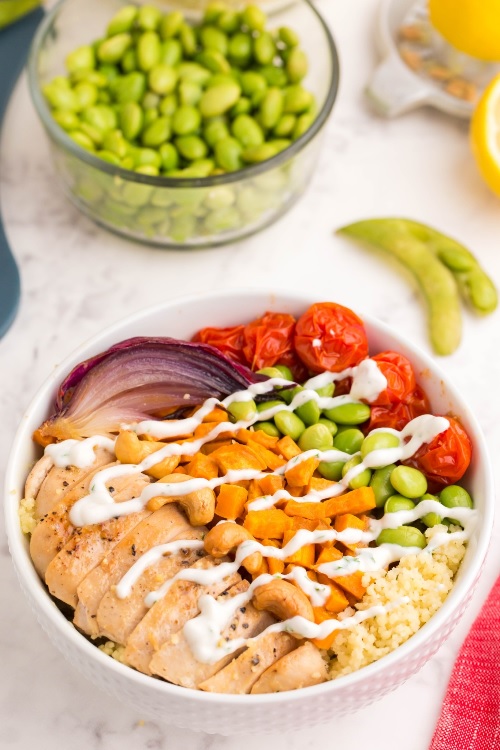 These delicious-looking bowls are probably something you saw on Instagram as well, but you probably thought they were simply another one-pot dish. Continue reading as we give you the inside scoop on this particular cuisine fad that has vegans and vegetarians all around the world raving!
Describe the Buddha Bowl.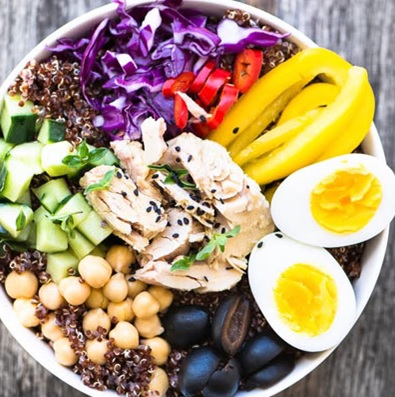 Buddha bowls are vibrant, nutritious, and incredibly aesthetically pleasing. Additionally, they've been referred to as macro bowls and hippy bowls. While the ingredients in a normal Buddha Bowl can vary, they should ideally include vegetables (either raw or roasted), grains (such as rice, oats, or quinoa), seeds, and proteins (tofu or meat). All of that was dressed tastefully to heighten the visual appeal and increase the deliciousness.
What makes them known as "Buddha Bowls"?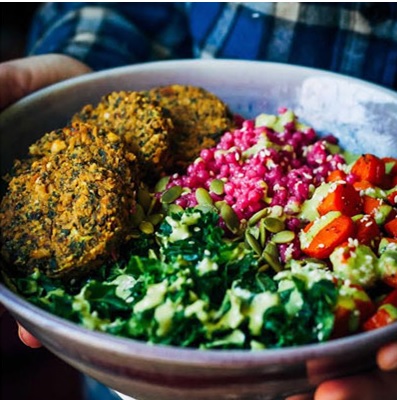 According to Urban Dictionary, which we all frequent frequently, Buddha bowls got their name because they are so densely packed that they end up looking like a Buddha's round belly. Dan Zigmond, the author of Buddha's Diet: The Ancient Art of Losing Weight Without Losing Your Mind, offered a more logical explanation, claiming that Buddha always rose before dawn and took his bowl through the streets or walks wherever he was staying. Locals would donate food to the bowl, and towards the end, he would consume whatever was there. That was the Buddha Bowl in its original form.
Buddha Bowls: How are they made?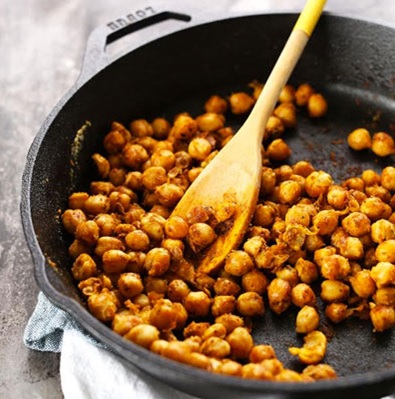 Making a Buddha Bowl does not have any set rules. It is entirely up to you and your taste buds to select your preferred vegetables and experiment with various sauces and garnishes. But always begin by cooking your grains and proteins, then add some cooked vegetables, and finally top it off with a few raw ones. You could either add fresh fruits to top it off for an intriguing mix or just use your typical salad dressing.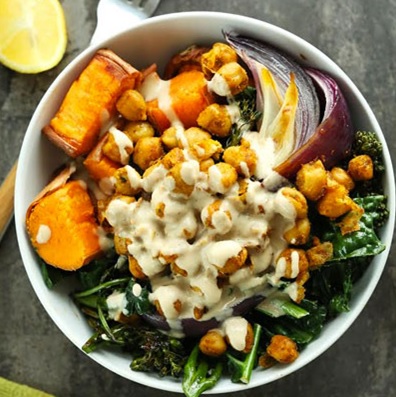 Here is a recipe for a Buddha Bowl from the site "Minimalist Baker."
Ingredients:
2 tablespoons grape seed or olive oil
a half-slice of red onion,
2 substantial sweet potatoes
227 g broccoli, chopped
Kale, two large handfuls
1/4 tsp of salt and pepper each
Chickpeas, 425 g
1 teaspoon cumin
Chili powder, 3/4 teaspoon
3/4 teaspoon of garlic powder
Instructions:
– Position sweet potatoes and onions on a clean baking sheet and preheat the oven to 400 degrees F.
– Drizzle both with a little oil, being care to coat the sweet potatoes' flesh thoroughly, and then arrange them skin-side down on the baking sheet.
– After baking for 10 minutes, flip the sweet potatoes over and add the broccolini. Add a little oil to the broccolini and season with a touch of salt and pepper.
– After baking for a further 8 to 10 minutes, remove from oven and stir in kale. Add a little extra oil to the greens and season with salt and pepper. Bake for an additional 4-5 minutes, then remove.
– Heat a large skillet over medium heat, add chickpeas to a bowl, and stir with seasonings while the vegetables are roasting.
When the mixture is heated, add 1 tablespoon of oil and the chickpeas, and stir frequently. Reduce heat if they are browning too soon. Increase heat if there isn't much browning occurring. I discovered that 10 minutes overall at a little bit above medium heat was ideal.
– Remove from fire and set aside the chickpeas as soon as they are aromatic and browned.
Sweet potatoes should be cut into bite-sized pieces. Distribute the veggies among the three serving bowls, then add the chickpeas and dressing.