This summer, we're all about yellow's gleam and radiance. The colour yellow has resurfaced in the fashion world, reflecting the Queen's Jubilee's cheerfulness and demonstrating its adaptability.
Yellow clothes have become increasingly trendy, appearing on red carpets and at a number of award ceremonies.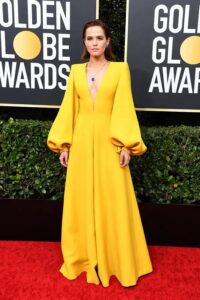 The strong colour of yellow, which has been seen on the red carpet and is currently a trendy trend, is being embraced by celebrity stylists.
Celebrity stylists are embracing the vibrant hue, as evidenced by Anne Hathaway's brilliant yellow Valentino ensemble at the Bulgari dinner in Paris and the Duchess of Cambridge's exquisite pastel ensemble at the Queen's Jubilee Service of Thanksgiving.
N.Peal, a high-end cashmere brand, looked at Google Trend data to discover how this vibrant colour is sweeping the fashion world.
The celebrity fashion world isn't the only place where people love yellow. According to Google Trends, searches for "yellow fascinator" have increased by 300 percent, while searches for "yellow wedding guest dress" have increased by 200 percent. Search statistics suggest that the popularity of entire yellow ensembles is on the rise, with a 170 percent increase for "yellow heels" and a 140 percent increase for "yellow dress for ladies."
Everyone will find a shade that suits them
Whether you're looking for your latest wedding season attire or simply want to add more colour to your summer wardrobe, yellow is the way to go," says Jo McLaren, the Head of E-Commerce at N.Peal. Adding light layers to your favourite summer look is a great way to join in on the yellow clothing trend and bring a ray of sunshine into your summer, no matter what the British weather decides to do."
We expect to see this trend among prominent personalities who have already worn Valentino's bright pinks, and we can't wait to see how the yellow will be styled this summer.
Yellow ensembles are versatile and vibrant, and there's a hue to suit everyone during the summer months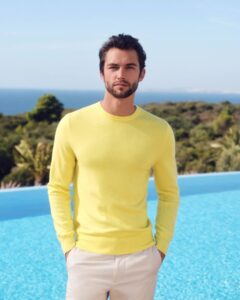 Peal, a high-end cashmere apparel brand, has a brilliant yellow collection.