There are now so many new styles and varieties of lehenga designs that the days of merely having to choose the colour and design for your wedding lehenga are long gone. Making the right choice of lehenga for a variety of occasions is exceedingly difficult and complex.
Here are some examples of the various lehenga styles we'll discuss in our blog!
1) Zardosi Lehenga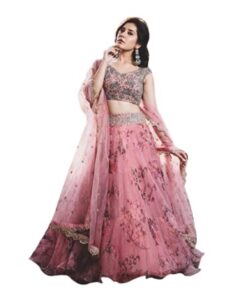 Every woman has a particular place in her heart for zardosi designs! Obviously quite luxurious, they are conventional, classic, and traditional. The word's literal translations are "gold" and "sewing." Anybody would fall in love just thinking about the lehenga when the word itself is thus majestic. The zardosi lehenga's grandeur comes from the thick and intricate embroidery on royal fabrics like silk or velvet.
2) Chevron Lehenga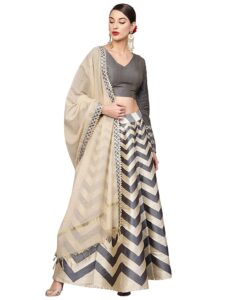 These lehengas stand out in terms of style on their own. There is always the extra benefit of experimentation with bridal attire. Lehengas with chevron prints have been on our wish list for a while. This year, brides are absolutely loving chevron patterns. If you want to look stylish on your wedding day. Here are several examples of chevron lehenga designs that we will research.
3) A Lehenga with many colours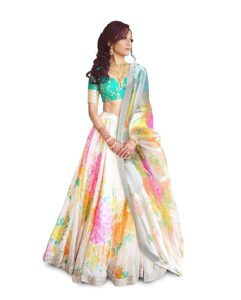 Before choosing the groom, the majority of brides typically decide on the style of lehenga they wish to wear on their wedding day. Due of shifting trends, many modern brides are forgoing the standard traditional pattern. They are willing to give novel and unusual things a try. At the moment, pastel colours and designs are popular.
4) Chikankari Lehengas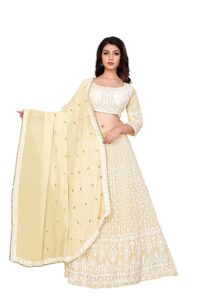 The most well-known and traditional embroidery technique is called chikankari. As a result, the traditional pattern has evolved over time and is now offered in a variety of colours. Furthermore, these chikankari embroidery pieces are spotless and classic. If melancholy is your style, you should think about wearing this chikankari lehenga on your special day.
5) Banarasi Bridal Lehenga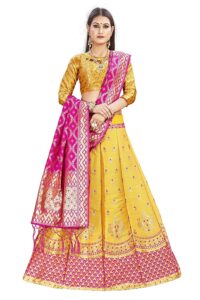 One of the alternatives brides have for their wedding attire is a bridal banarasi lehenga. The point is that a banarasi lehenga appears regal and opulent on its own. Additionally, it naturally enhances the appearance if the bride is wearing a banarasi lehenga choli to her wedding. Therefore, for their wedding, brides must attempt on a banarasi lehenga appearance.
6) Lehenga Styles with Peplums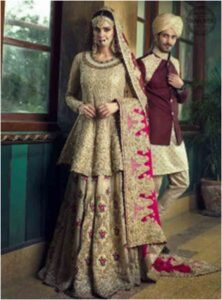 The most distinctive approach to play with your appearance is using peplum lehengas. Additionally, it will aid in giving you a stunning bridal appearance. Therefore, wearing peplum lehengas on your wedding day is a great strategy to have an enchanted gown there.
7) Lehenga with Panel Work Design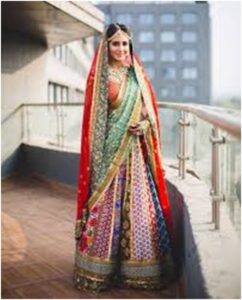 These lehenga designs have horizontal panels sewn along the flare, as the name would imply. The lehenga skirt's panels are organised in a manner akin to how petals are arranged in a flower, Kalis. The volume of the lehenga's flare increases dramatically because there are too many panels in the garment. Thus, the volume highlights the bridal lehenga's magnificence.