Do you want to change your look for this Wedding Season and match your hairstyles with Bridal Hairstyles? So, just sit back and scroll,
we are here with the top 5 Half Bun Hairstyles for you to slay in this wedding.
1) Wavy Bun Hairstyles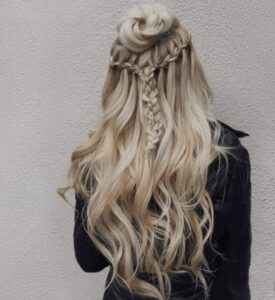 This is a bit time-consuming but a very easy and super hot hairstyle. To achieve this, take the crown portion of your hair and style it with a messy bun. But this is not it, to achieve the climax and the most amazing part you have to do a waterfall hairstyle underneath and combine both strands with a long simple braid and loose that plaits according to your comfort level.
2) Messy Half Bun Hairstyles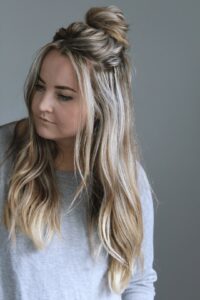 Part your hair at the temples and pull the hair you have parted into a ponytail. Secure it with an elastic but the trick here is when you will pull the elastic for the second time, don't do it completely. Make a loop and wrap the hair around it. Once you are satisfied, just release the elastic to secure the bun.
3) Side Braid Hairstyles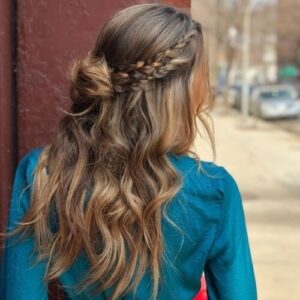 For this look, prep your hair with loose curls with no knots and then take 4 strands of hair from one side and then braid those strands. Do the same on another side then tuck it with a messy bun. Wear hair in big loose waves for a lovely touch.
4) Flower Half Bun Hairstyles
It is a very trendy hairstyle and to achieve this hairdo, backcombs the crown portion of your hair because this will help you to give volume. Now, fishtail the two thicker strands and start wrapping them in a circle and secure them in a flower bun with bobby pins. Throw on a floral dress, and you're all set for your date night or girls' night out.
5) Twisted Braid Hairstyles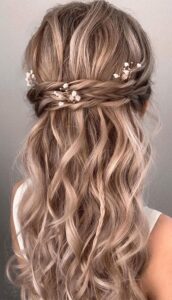 This rope braid twist hairstyle looks very classy yet very easy to achieve. You just have to twist two strands of your hair from one side in the same direction and then wrap the strands on the opposite sides to get the rope look and then do the same on another side. After that combine both twisted strands and secure them with a pin. You can either straighten your hair or just do the curls.
This is it, We tried our best to pick the best half bun hairstyles and we hope that you have made your wishlist now. If you have some more styles then do tell us and our audience in the comment section below.