Wedding shopping can be quite exhausting and stressful…especially if you're the bride. The nerves really start to kick in as you start planning your trousseau for the big day. The biggest challenge you'll face is to determine which styles will work best for you…especially if you have a curvy body type.
A bride's biggest nightmare is to look overly bulky on her big day…and for curvier brides, even more so! But worry not dear brides; we've got just the thing to help you.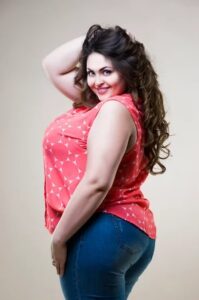 We've drawn up a list of some fabulous style tips especially for curvier brides to help you look dead-drop gorgeous on your big day. Read on…
1) Pick a lehenga that compliments your shape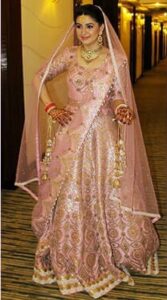 Even as a curvy bride, you need to know your exact body shape – whether you're an apple, a pear (or any fruit in between!). Avoid tight mermaid cuts that accentuate the hips and opt for flared or umbrella cut lehengas. High waist lehengas are also a great option to help hide your tummy and other problem areas. Besides, they're totally in vogue… so why not?
2) Avoid excessive bling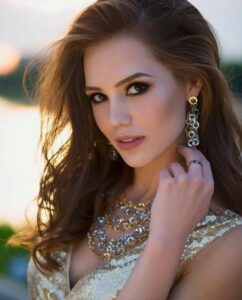 Yes, we know Indian weddings are all about the glitz and glam, but if you're on the curvier side, you simply have to tone down the bling to avoid looking overly bulky. Further, also try to stay away from shiny fabrics like high-shine satins or fabrics with metallic threads, which reflect the light and make you look larger.
3) Pick your fabric carefully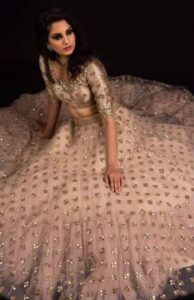 For a curvy body type, we recommend lighter fabrics like satin, georgette, crepe or even pure silk. Avoid thick fabrics like velvet that'll add unwanted volume and make you look bulkier. Also, avoid overly clingy fabrics like lycra and chiffon that'll stick to your body and highlight your problem areas.
4) Watch your neckline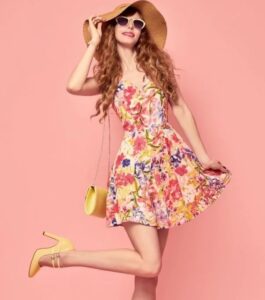 Let's face it…plunging necklines are just not ideal for bustier women. The neckline of your blouse plays an important role in shaping your wedding attire so you need to keep it elegant. Sweetheart,
V-neck or square necklines usually work best for curvier women. If you are top heavy then avoid high necklines as they make you look bulkier and make your neck look shorter in comparison. You also need to avoid boat neck designs, as they will make your shoulder look broader than usual.
5) Invest in good lingerie and shape wear
While wedding shopping, you often tend to focus so much on your main trousseau that you end up forgetting the basics. Bad lingerie can potentially ruin your entire wedding look. The last thing you need is a visible bra strap or panty line to sabotage that otherwise gorgeous bridal attire. We suggest investing in a supportive tube bra, or better yet, a padded blouse so you have more room to play around with cuts and styles. We also highly recommend investing in some shapewear.
6) Avoid too many colours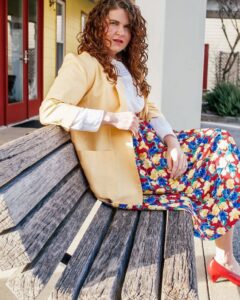 While we are absolute fans of mix and match, did you know that wearing too many colours can make you look visually larger? As a curvy bride, you want an overall slimming appearance. So opt for a single solid colour or colours from the same colour family and base your whole outfit around it –be it your blouse, dupatta or lehenga! Now, that doesn't mean your outfit needs to be boring…as long as you stay away from super-contrasting pieces, you'll be just fine!
7) Choose a slimming hairstyle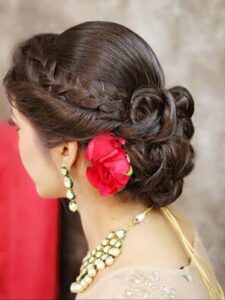 There are a number of fabulous bridal hairstyles out there, but you need to pick one that'll best compliment your attire and also give you a slimmer appearance. We recommend opting for a bun updo that'll make you look taller and less bulky. Feel free to accessorize but keep it subtle and elegant. Anything OTT can ruin it for you…so keep it minimalistic and chic!
8) Pick your jewellery carefully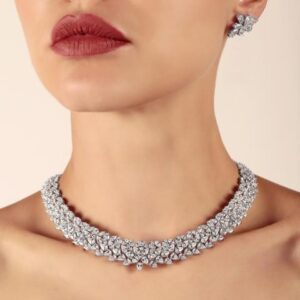 Most brides tend to go for neck hugging necklaces and chokers. And while those do look stunning, you need to make sure your jewellery compliments your body type. Chokers tend to make your neck look shorter and thereby make you appear visually larger than otherwise. Instead, you should go for delicate and longer neckpieces in varying lengths to draw the attention away from your problem areas.
Having a curvy body doesn't mean you have to settle! There are tons of fabulous, flattering, and fashionable dressing options out there for you. Just keep these tips in mind and you'll look like a vision on your big day!